A-levels: Gavin Williamson 'incredibly sorry' for exam distress – BBC News
August 18, 2020

Views: 21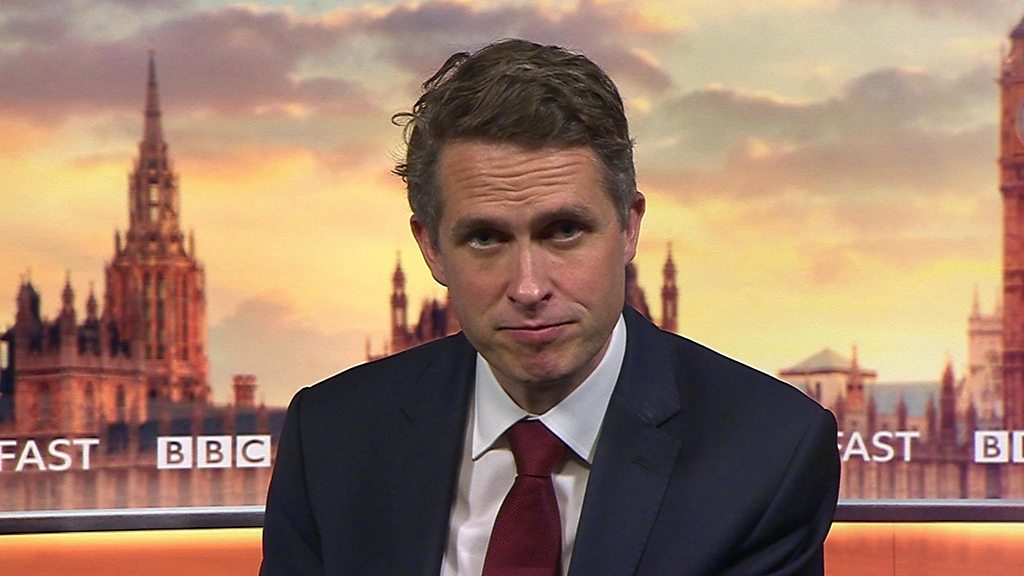 Gavin Williamson says he is "incredibly sorry for the distress" caused to pupils after having to make a U-turn in how A-levels and GCSEs are graded.
The education secretary refused to say if he will resign amid a fresh scramble to secure university places.
"My focus is making sure youngsters get the grades that they deserve," he said.
Institutions are dealing with a surge of demand for places from students rejected due to their original results last week.
The University of Oxford said it now had "many more offer-holders meeting their grades than in a normal year" and as a result faced "significant capacity constraints both within our colleges and on our academic courses".
Alistair Jarvis, chief executive of Universities UK which represents vice-chancellors, said that many more students now had the grades to get into their first-choice university.
He said this will "cause challenges at this late stage in the admissions process – capacity, staffing, placements and facilities – particularly with the social distance measures in place".
Ministers in England, Northern Ireland and Wales all decided on Monday – four days after A-level results were issued – to revert to teacher assessed grades rather than an algorithm designed to moderate them.
It followed an outcry after 40% of A-level results were downgraded by exams regulator Ofqual, which used a formula based on schools' prior grades.
"I would like to start off by apologising – saying sorry to all those young people who've been affected by this. This is something none of us expected to see and none of us wanted to see," Mr Williamson told BBC Radio 4's Today programme.
Mr Williamson said it had been the common view of the government, Ofqual, and the devolved administrations in Wales and Northern Ireland of different political parties that the system in place was more robust and "significantly better" than that in Scotland, after an earlier U-turn there.
But after the release of A-level results on Thursday he said it "became increasingly apparent that there were too many young people that quite simply hadn't got the grade they truly deserved".
The "exact same challenge" would have remained had there been a U-turn earlier, he said, and "we would still be faced with the challenge of the fact of how do we expand the capacity within the university sector".
He refused to address questions about his future as education secretary during interviews on Tuesday morning and he declined to offer explicit support for Ofqual's chief regulator, Sally Collier, to stay in her job.
Mr Williamson later told LBC: "We ended up in a situation where Ofqual didn't deliver the system that we had been reassured and believed that would be in place."
Labour's shadow higher education minister Emma Hardy told Breakfast it appeared Ofqual had been "thrown under the bus" by the government despite it working to ministers' instructions during the pandemic.
Ofqual's algorithm came under fire for its perceived unfairness after data showed poorer students' grades were marked down further than better off pupils.
The government's U-turn means teachers' assessments will also be used for all GCSE results – except for any cases where the algorithm adjustment actually suggests a better grade.
It is still unclear what the climbdown will mean for students taking vocational qualifications, including BTecs, with students telling BBC Radio 1's Newsbeat: "We've been forgotten about."
Mr Williamson said he hoped they would also be subject to teacher-assessed grades, adding that the government was working with awarding authorities to ensure this happened.
'Stretching resources'
As part of the changes to grading, Mr Williamson has suspended a cap on student numbers for universities – effectively allowing institutions to accept unlimited numbers this year.
Timeline: Government's changing position
11 August: Gavin Williamson announced A-level students would be able to use their results in mock tests to appeal if they are unhappy with the grades they are given, calling it a "safety net". Earlier in the day Scotland's government decided to switch to teachers' predicted grades
12 August: Nick Gibb, schools minister for England, acknowledged the government was "concerned" about what had happened in Scotland but insisted the system in England remained "robust"
Thursday 13 August (results day): Mr Williamson ruled out following the Scottish government in reversing position, telling Sky News: "You've got to have a system that has checks and balances". Prime Minister Boris Johnson said the results were a "robust set of grades"
Saturday: Mr Williamson told the Times there would be "no U-turn" on the grading system, saying Scotland had ended up with "a system where there aren't any controls" and had "rampant grade inflation"
Sunday: Mr Williamson defended Ofqual's grading method in the Sunday Express, saying the calculated grade "makes certain that everyone can be confident that these qualifications carry the same weight as previous years"
Monday: Mr Williamson announces a move to teacher-assessed grades for A-levels and GCSES saying "we now believe it is better"
Dr Tim Bradshaw, chief executive of the Russell Group which represents 24 leading universities, said there were "limits to what can be done by the university sector alone to address that uncertainty without stretching resources to the point that it undermines the experience for all".
Some students are now anxiously waiting to find out if they will now be accepted on to their courses.
Zainab Ali, 18, from London, was initially rejected from her first-choice of Queen Mary University of London. "I felt like I've been really let down. It was really, really stressful," she said.
Emily King, from Whittlesey in Cambridgeshire, said being downgraded from a C to a U in her A-level biology had "really knocked her confidence" and meant she had been rejected by the University of Lincoln.
Universities including Bristol, Durham, Sheffield and Liverpool stopped offering places through the clearing system that matches students to unfilled courses on Monday.
Bristol later said it would accept all applicants who now met the terms of an offer and Sheffield said it would do so "wherever possible".
Ucas was unable to say how many students had not been able to take up places due to their results being downgraded. Neither it nor universities have yet been granted access to upgraded results.
It said its latest figures early on Tuesday showed:
327,350 university applicants had been placed at their first choice university since the results were released last week, slightly up on the same point last year
45,300 candidates had accepted a place at a back-up choice university, and a further 25,190 candidates had found a place through clearing.
This means that a maximum of around 60,000 students could have accepted offers at lower-choice universities due to the exam results chaos – although it is likely to be less than that as some would still have fallen short of the grades needed for their first-choice
A Ucas spokesman said students who have not got into their first-choice institution should seek advice from their parents or teachers before contacting the university.
'Too slow to act'
Sam Freedman, who was a senior policy adviser to the Department for Education between 2010 and 2013, said it "beggared belief" that the secretary of state had said he was only aware of problems over the weekend.
"I can't think of many other education secretaries who wouldn't have already resigned," he said.
Meanwhile Labour leader Sir Keir Starmer wrote in the Daily Mirror: "The Tories' handling of these results sums up their handling of this pandemic: incompetent."
---
Have your grades been raised? Have you still missed out on a university place? Do you have questions about your situation? Get in touch via the form.
In some cases your question will be published, displaying your name, age and location as you provide it, unless you state otherwise. Your contact details will never be published. Please ensure you have read our terms & conditions and privacy policy.
Use this form to ask your question:
If you are reading this page and can't see the form you will need to visit the mobile version of the BBC website to submit your question or send them via email to YourQuestions@bbc.co.uk. Please include your name, age and location with any question you send in.